The right technology makes up-selling easy both for guests and staff. A well-implemented up-sell strategy will enhance the guest experience, by allowing guests to improve their stay, without feeling overwhelmed by a pushy sales strategy.
What is hotel upselling vs cross-selling?
These two related terms refer to increasing the revenue per guest. Upselling is when a guest trades up to a higher value purchase (such as a room upgrade) or, in the case of hotels, selects additional services like early check-in.
Cross-selling is when you sell an additional service to a guest, such as discounts to a local attraction or on-site amenity.
In this blog, we'll be focused on up-sell opportunities that your PMS can help you optimize. A modern property management system will standardize and automate up-sell opportunities at multiple stages in a guest's stay, both through in-app functionality as well as seamless integrations.
1: Confirmation emails
Pre-stay emails are an important revenue driver. According to one study, hotels using email campaigns saw 98% of their pre-stay up-sells come through this channel over any other.
Once a booking comes through, your property management system should automatically send out a confirmation email. Using the right integrations, you can create a pre-set sequence of emails that will keep your hotel top-of-mind for future guests right up until their stay. In these emails, you can prompt guests with up-sell opportunities such as:
Early or late arrival
Parking (if relevant)
Room upgrades
For more, learn all about the revenue potential of hotel welcome emails. Chorum PMS sends automatic email confirmations to future guests. Our system also integrates with a guest messaging solution to create visually-driven emails that drive up-sell revenue.
2: Front Desk
One of the most important upsell opportunities is when a guest is at the front desk. Your hotel's PMS needs to make it very easy for staff to check guests in, while simultaneously offering them up-sell opportunities.
Chorum PMS has multiple built-in ways that make it incredibly easy for staff to do so. First, via room upgrades. The system automatically shows opportunities for room upgrades during every check-in procedure. Our technology matches their stay duration to available rooms, showing staff possible upgrades to sell alongside the room it has selected for them.
Second, via special requests. Chorum PMS can have an unlimited number of special requests added into the system, depending on hotel needs. These special requests are then available for staff to add to a booking at check-in with a click of a button.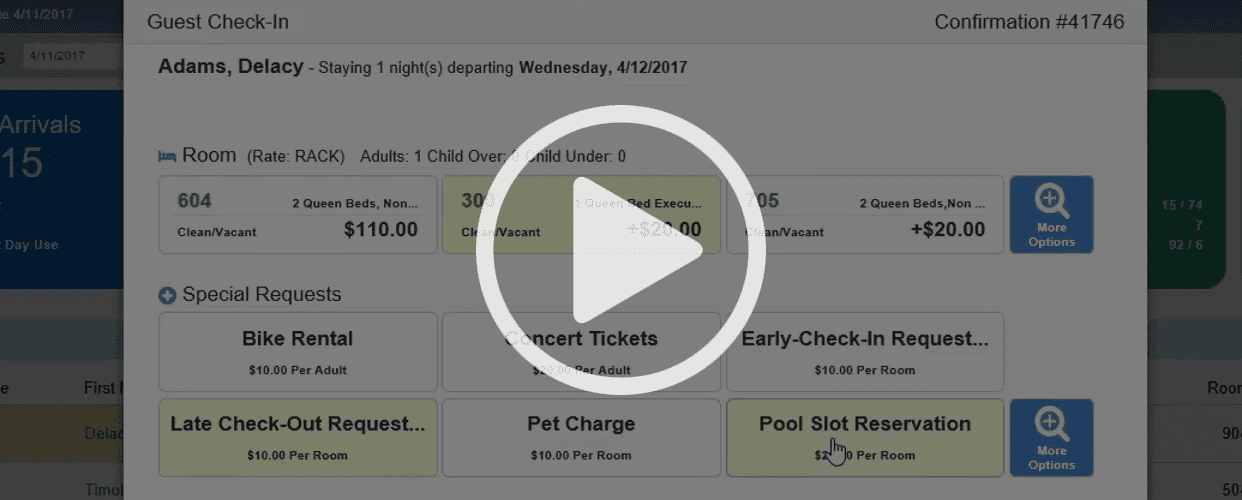 What's more, our PMS can also generate an exportable report that shows details revenue by front desk agent. This allows hotels to track and reward staff performance in this key area.
3: Remote check-in
Providing guests with a contactless check-in option is increasingly essential. It improves operational efficiency by allowing guests to complete the process on their own time and on their own devices. But you certainly don't want to miss out on the value up-sell opportunities at the front desk, as discussed above.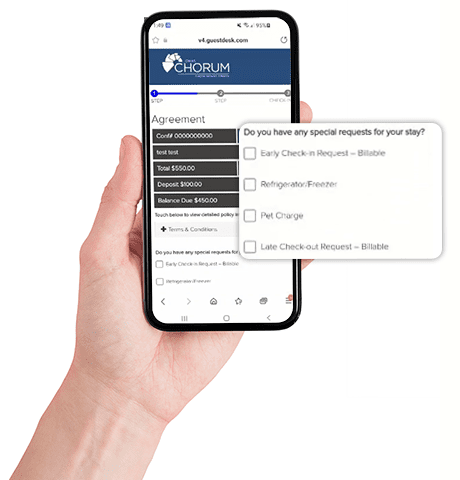 Chorum PMS has two different remote check-in options. A secure web portal that can be accessed on any mobile, accessed via link – or on a dedicated mobile app downloaded from the app store.
Here's why it's time to invest in a contactless check-in experience.
No matter how a guest checks in, the process should integrate up-sell opportunities. In Chorum PMS, all of our mobile check-in options give guests the option to include the same upgrades that they could select at the front desk.
The mobile web check-in allows guests to pre-register and provide essential details. They will still need to stop by the front desk for their key or to complete registration, depending on how you choose to set it up.
A better property management system
Upsells are an important stream of direct revenue for any hotel. Your technology should make it easy to drive incremental revenue throughout the guest journey. Contact us today to learn more about how Chorum PMS can improve revenue at your hotel!