With the impact that the COVID-19 pandemic has had on the hospitality industry, the most important aspect for hotels is the safety of both staff and guests. With hotels implementing new safety measures and cleanliness protocols, the challenge now becomes:
"How do you manage these new processes while ensuring the wellbeing of those on property?"
When you're using the right hotel housekeeping technology, you can achieve both seamlessly.
Hotel software and technology has quickly evolved, as many hoteliers shift their focus on implementing mobile and contactless solutions. While many of the property management software available today don't necessarily include a mobile app, Jonas Chorum PMS offers this functionality as part of the core system. Within this staff-facing mobile app is a specific solution designed to streamline housekeeping operations and improve overall efficiency: Mobile Housekeeping.
Let's go through some of the value-added benefits of this housekeeping software solution: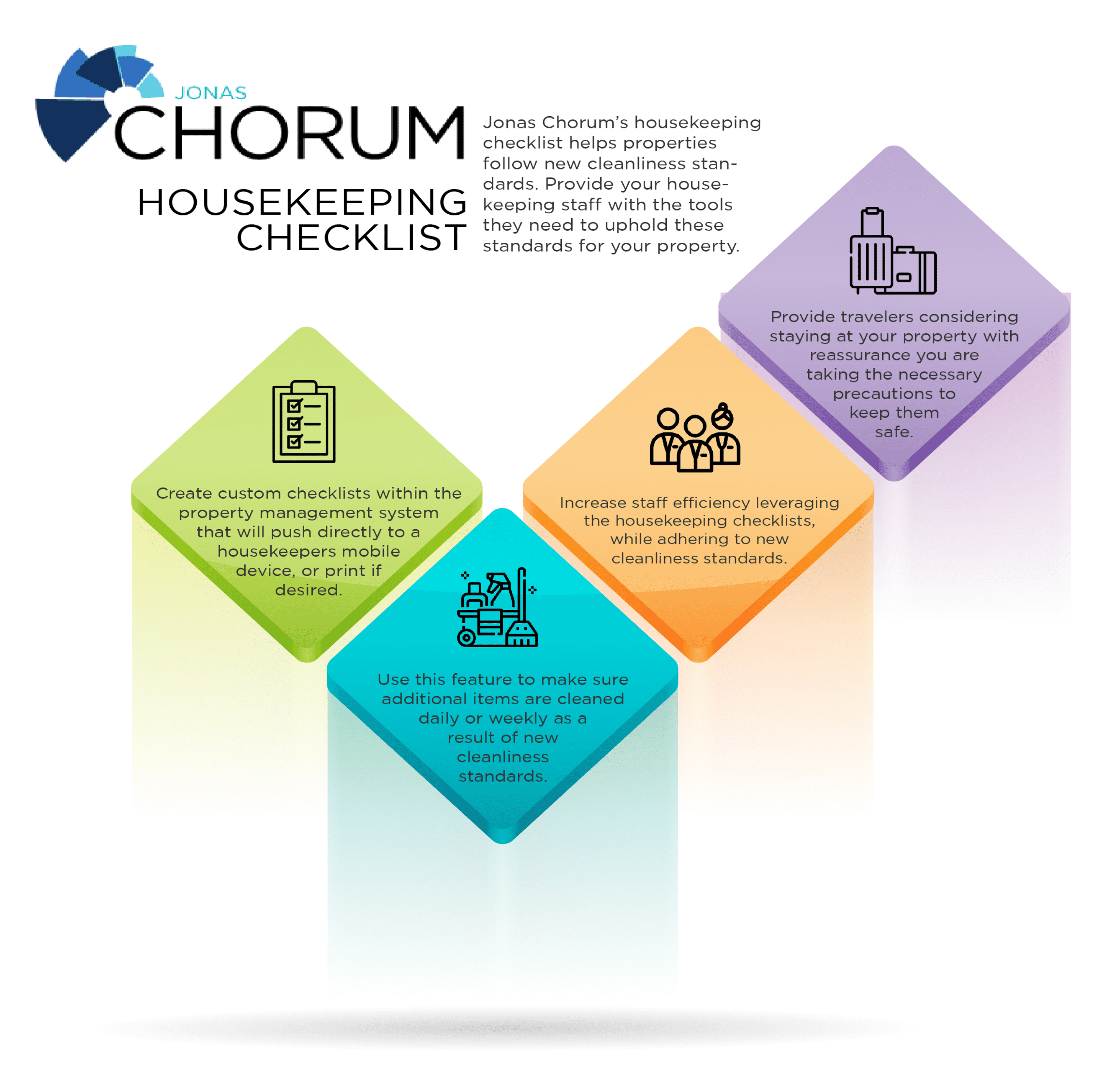 1. Digital Housekeeping Checklists
With housekeeping checklists available within the Chorum staff-facing mobile application, hoteliers can ensure their staff remains both organized and effective when cleaning rooms and public areas. As increased safety measures are put in place and more stringent cleaning protocols are required, the checklist functionality provides an extra layer of security to ensure all aspects of the room cleaning process are being followed.
With Jonas Chorum's housekeeping checklist, hoteliers can empower housekeeping staff with the tools they need to uphold these new cleanliness standards.
2. Custom Checklist Creation
Our hotel housekeeping technology and PMS integrates seamlessly and gives supervisors the ability to create custom checklists that will push directly to a housekeeper's mobile device, so they know their task assignments with the press of a button.
3. Task Prioritization
Jonas Chorum's hotel housekeeping software helps maintain new cleanliness and sanitation protocols. Supervisors can simply add additional items to their custom checklists that should be cleaned and sanitized more frequently than others.
4. View Checklists On-the-Go
Jonas Chorum's housekeeping software allows hotel staff to work more efficiently by providing them with digitally synced checklists, while reducing time-consuming trips to the front desk or face-to-face interactions with supervisors and other hotel staff. With the right hotel front desk software, hotels can push for more genuine staff-to-guest reactions.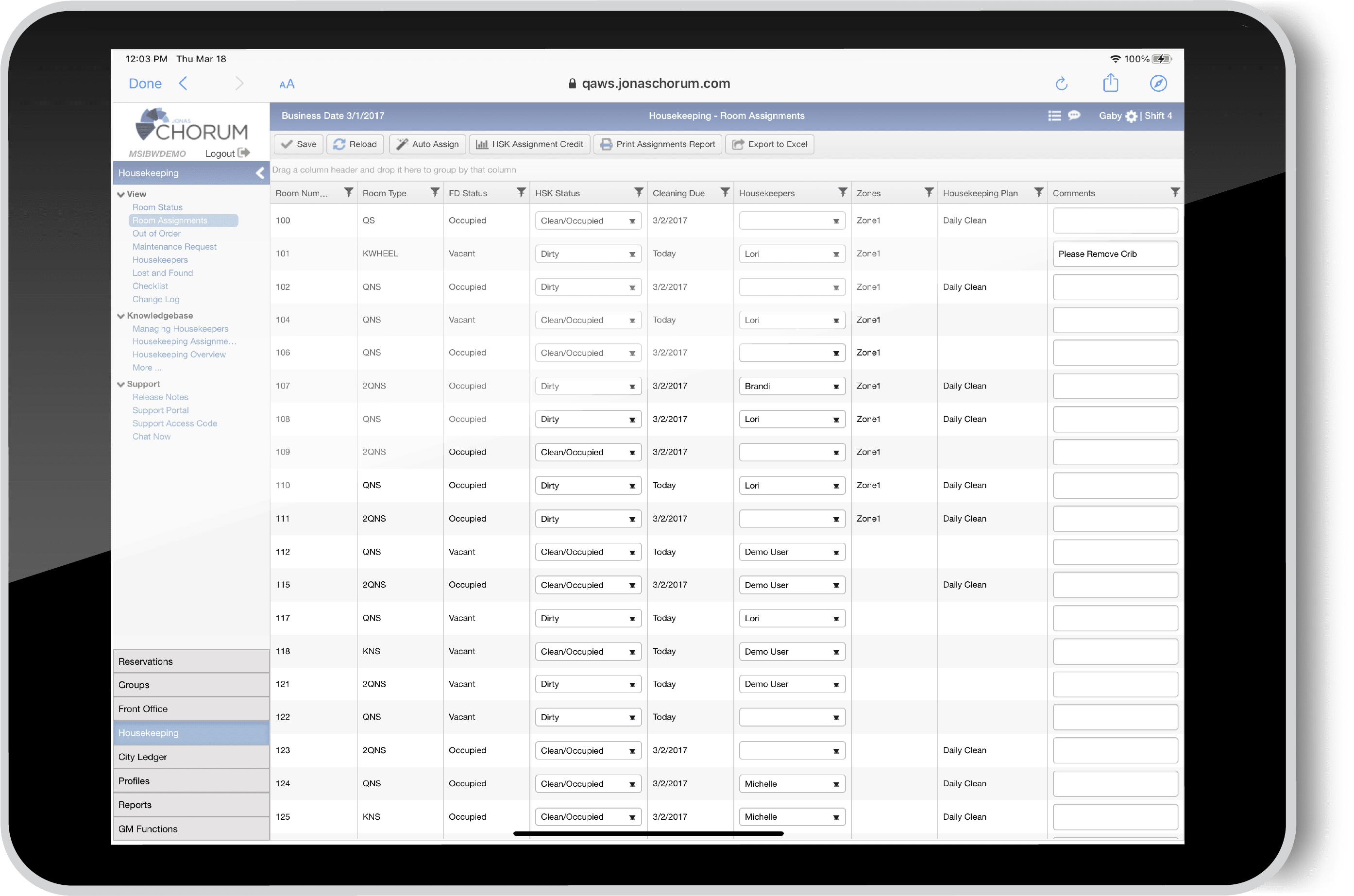 5. Room Cleaning Prioritization
Using the Jonas Chorum's housekeeping technology, housekeeping staff can quickly and easily identify which rooms to prioritize based on guest estimated time of arrival, increasing the efficiency of your hotel's day-to-day operations.
6. Room Reassignments at the Press of a Button
Jonas Chorum's housekeeping software makes it incredibly easy to maintain efficiency in all aspects of your hotel's day-to-day operations, including room assignments and reassignments for housekeeping staff.
Supervisors can easily reassign rooms on the fly via the mobile app. With two-way, real-time syncing of information, all status changes and room updates are automatically updated within the Jonas Chorum property management software.
7. Status Updates in Real-Time
Supervisors can check the status of rooms no matter where they are with Jonas Chorum's mobile housekeeping software. And rooms are available for viewing at the front office in real time as they're cleared by a room inspector.
This means housekeepers can avoid calls and trips to the front desk to notify staff that certain rooms are clean and available. Once the room is marked as clean, the supervisor can inspect and approve the room for use, all without having to directly interact with the housekeeper.
8. Maintenance Item Documentation
Maintenance items can be documented in seconds from an Android or iOS device. Staff can use their mobile device's camera to easily document and upload any issues directly to the software.
9. Increase Guest Confidence
Because hoteliers can use Jonas Chorum's hotel housekeeping technology to create customized checklists designed to enhance the cleanliness levels on property, potential travelers can rest assured that the hotel is taking the necessary precautions to keep them safe. While this may seem like a minor benefit, simply having these checklists in place can be a huge differentiator and provide hotels with a competitive advantage.
For example, a guest is comparing two properties to stay at for a potential vacation. The first hotel claims to have enhanced cleaning standards, yet they cannot demonstrate the steps they have taken to do so, such as a more detailed cleaning process. The second hotel, on the other hand, is willing to provide guests with an itemized list of the items cleaned by housekeeping staff, which outlines the steps taken to ensure the cleanliness of each room is handled with care.
In this scenario, assuming everything else is equal, the advantage is given to the second property, as they can provide greater documentation surrounding their cleanliness protocols.
10. Real-Time Guest Notifications
If you combine the functionality of Jonas Chorum's mobile housekeeping software with Chorum Mobile, Jonas Chorum's guest-facing mobile application, guests can even be notified when their room has been cleaned and is ready for check-in.
Overall, this provides guests with greater peace of mind in knowing that the hotel is doing all they can to ensure a safe and clean environment for their guests, which can go a long way to bringing in new business in these challenging times.
11. Limit Face-to-Face Interaction
A key benefit of the Chorum housekeeping mobile solution is the ability to perform all the main housekeeping functions directly from a mobile device or tablet. This helps limit face-to-face interaction with other staff members, boosts the housekeeper's efficiency, and enhances your hotel's overall safety precautions.
Interested in learning more about the Jonas Chorum's housekeeping software and mobile capabilities? Request a demo today and see our industry-leading true cloud solutions in action!